YOUR RESOURCE FOR ALL THINGS
STRIDELINE SALES
YOUR RESOURCE FOR ALL THINGS
STRIDELINE SALES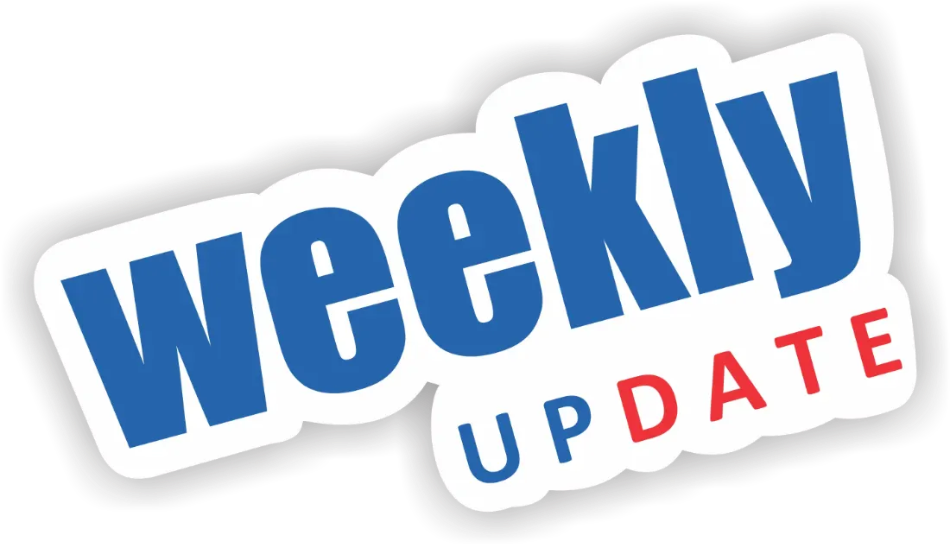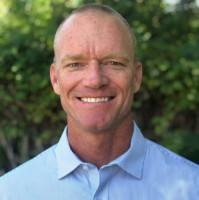 Happy Day After Deadline!
Yes, our 3/1 for a 7/15 delivery deadline has passed.  If you have accounts still looking to secure the discount and the 7/15 delivery you are okay to have orders in by Friday AM.
3/15 deadline for an 8/1 delivery is next.
Made to order versus Prebook.  Please know that you still can order with a 4-5 week window (factory direct shipping).   Prebook is preferred for future orders, but we absolutely want to continue to pursue business no matter the delivery date.
Prebook review.  I will be sending out a prebook review and open order report by EOW.
MLS summit.  Please connect with all your MLS accounts and let them know Strideline (Ty, possibly Riley/Megan) will be at the show. I look forward to talking with them all. 3/22-3/23 Minneapolis.
Sales questions for your NCAA accounts. Some of these are straightforward, but keep asking those questions.

"I noticed we are currently not on your online bookstore. How can we get represented online going forward?"
"Is Strideline represented in all sports at the school's gym/arena/fieldhouse? We'd love to be in all concession/souvenir stands! SL takes up a very small footprint and has a high turn rate!"
"Is Strideline inventory set to go at all the fall sports (football stadiums) for the upcoming season?"
"Is there any other point of sale that our category and brand can be of value to you for what you manage? In sports lic or with our custom program."

And now for your quote of the week:
Week of February 21, 2022

---
- FALL 22 -
SEASON AND LOOKBOOK AVAILABLE: 12/15/21
PREBOOK DEADLINE: 2/15/22
SHIP DATE: 7/1/2022
- HOLIDAY 22 CAPSULE -
SEASON AND LOOKBOOK AVAILABLE: 4/15/2022
PREBOOK DEADLINE: 5/15/2022
SHIP DATE: 9/15/2022
- SPRING 23 -
SEASON AND LOOKBOOK AVAILABLE: 6/1/22
PREBOOK DEADLINE: 9/15/22
SHIP DATE: 1/15/2023
---
NEW COLLECTION : MLS KIT WEAR 2022
Available 2/15/2022

---
Various Lookbook Formats to Best Suit Your Needs
---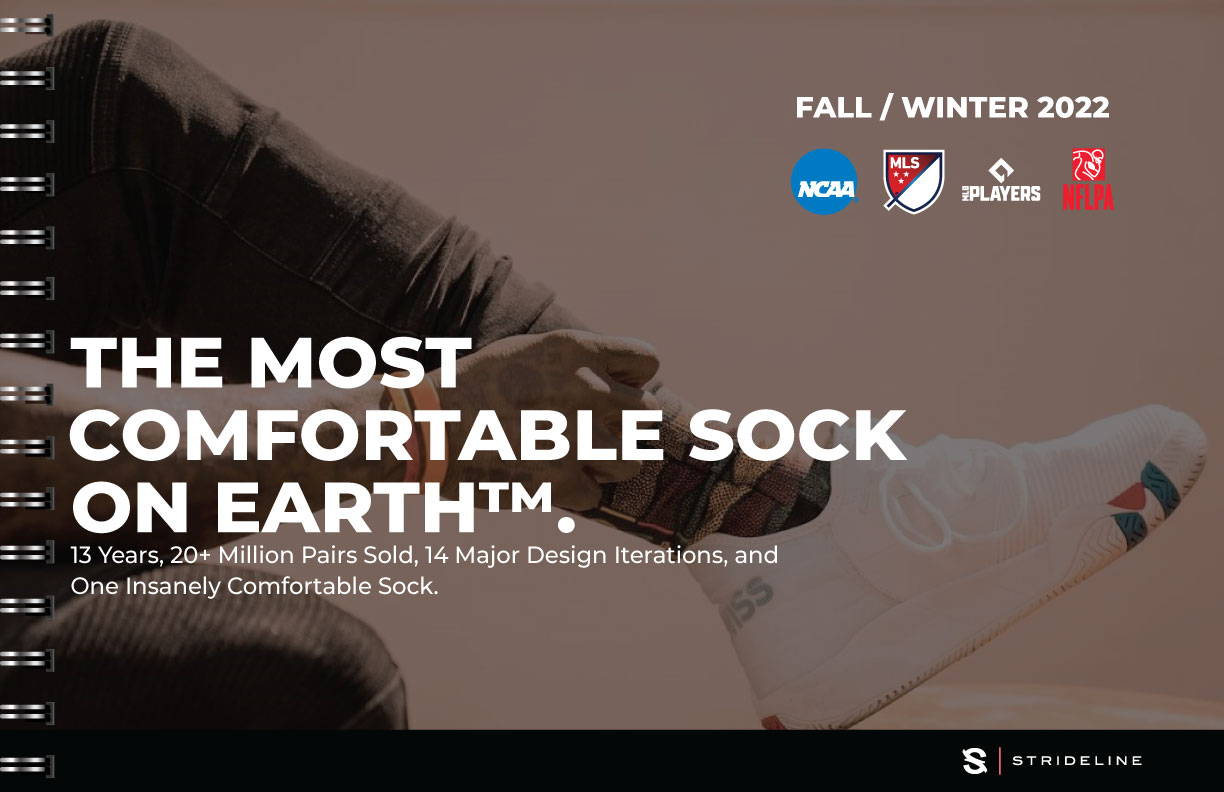 FULL FW22 LOOKBOOK
Complete 65 Page Lookbook
for FW22
---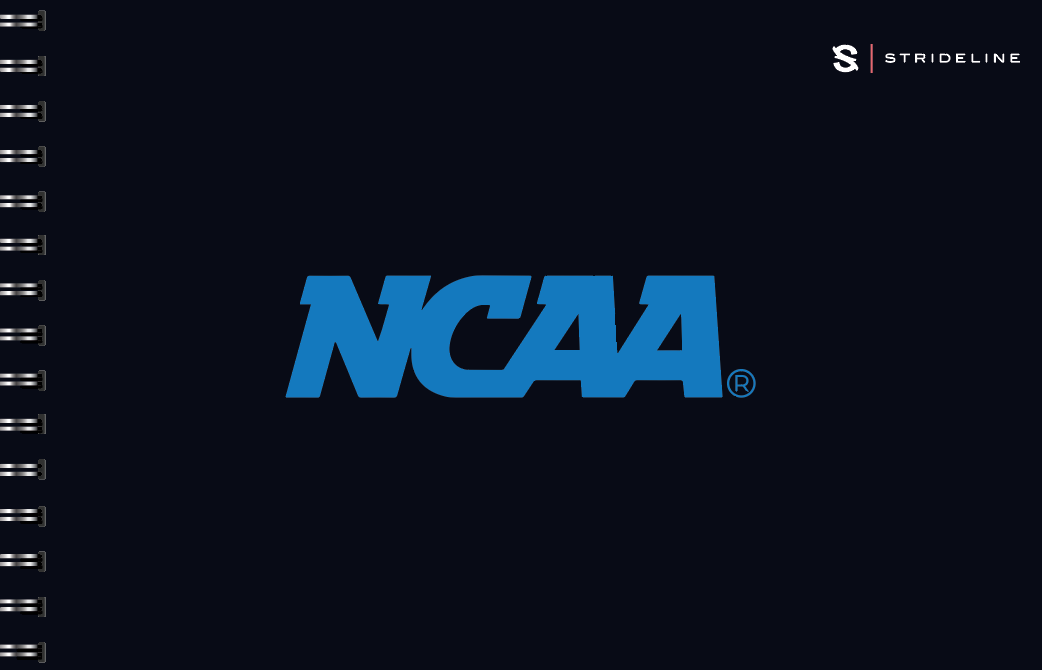 NCAA ONLY
FW22 Lookbook Containing
just NCAA
---
---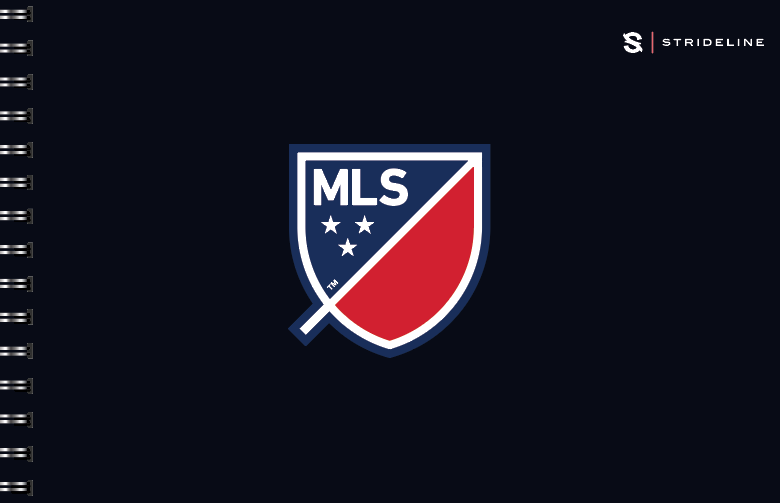 MLS ONLY
FW22 Lookbook Containing just
MLS
---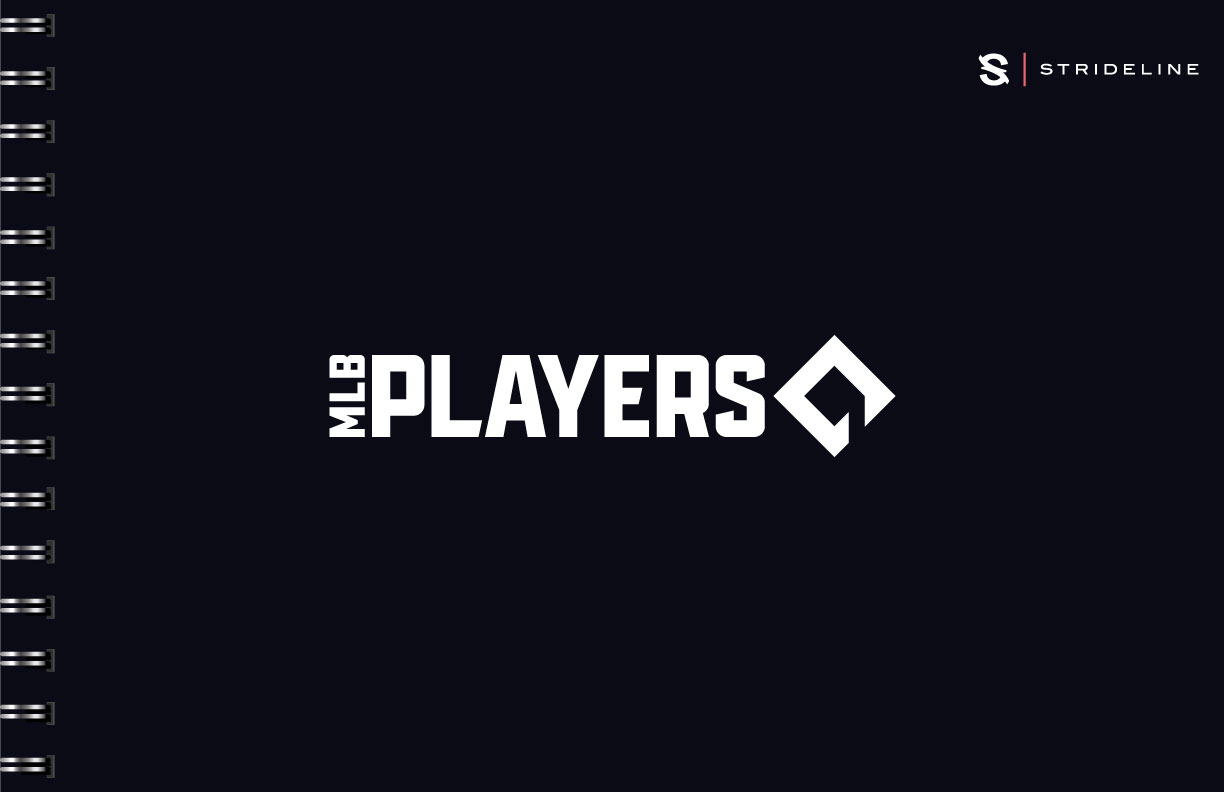 MLB PLAYERS ONLY
FW22 Lookbook Containing
just MLBPA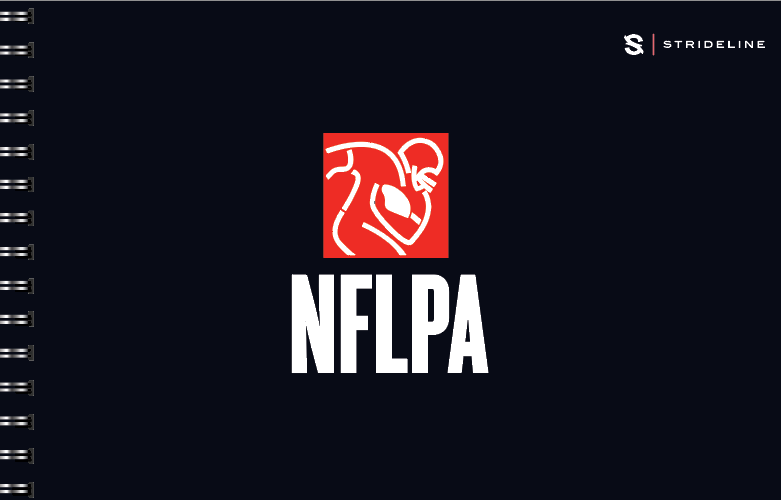 NFL PLAYERS ONLY
FW22 Lookbook Containing
just NFLPA
---
CONDENSED COLLECTION VIEW
24 Page Lookbook Overview Of All Collections Available For Each League. A Useful Tool When Walking Through the Line at a High Level.
---
---
We are excited to make custom a renewed focus of the brand in 2022.
We've worked hard to vastly SIMPLIFY our process and make this a great add on for all your accounts.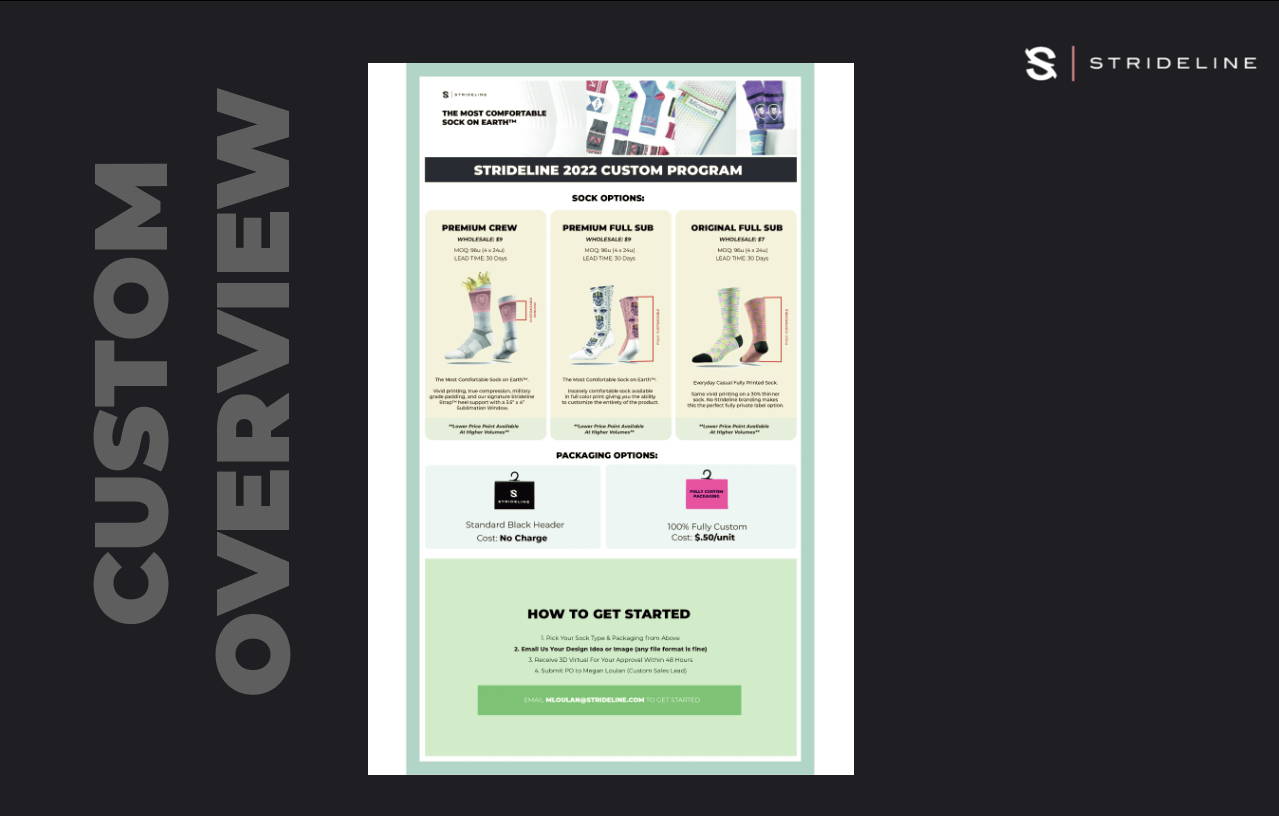 The simple 1 pager above outlines all you need to know to sell custom socks today .
STRIDELINE CURRENT LICENSE LIST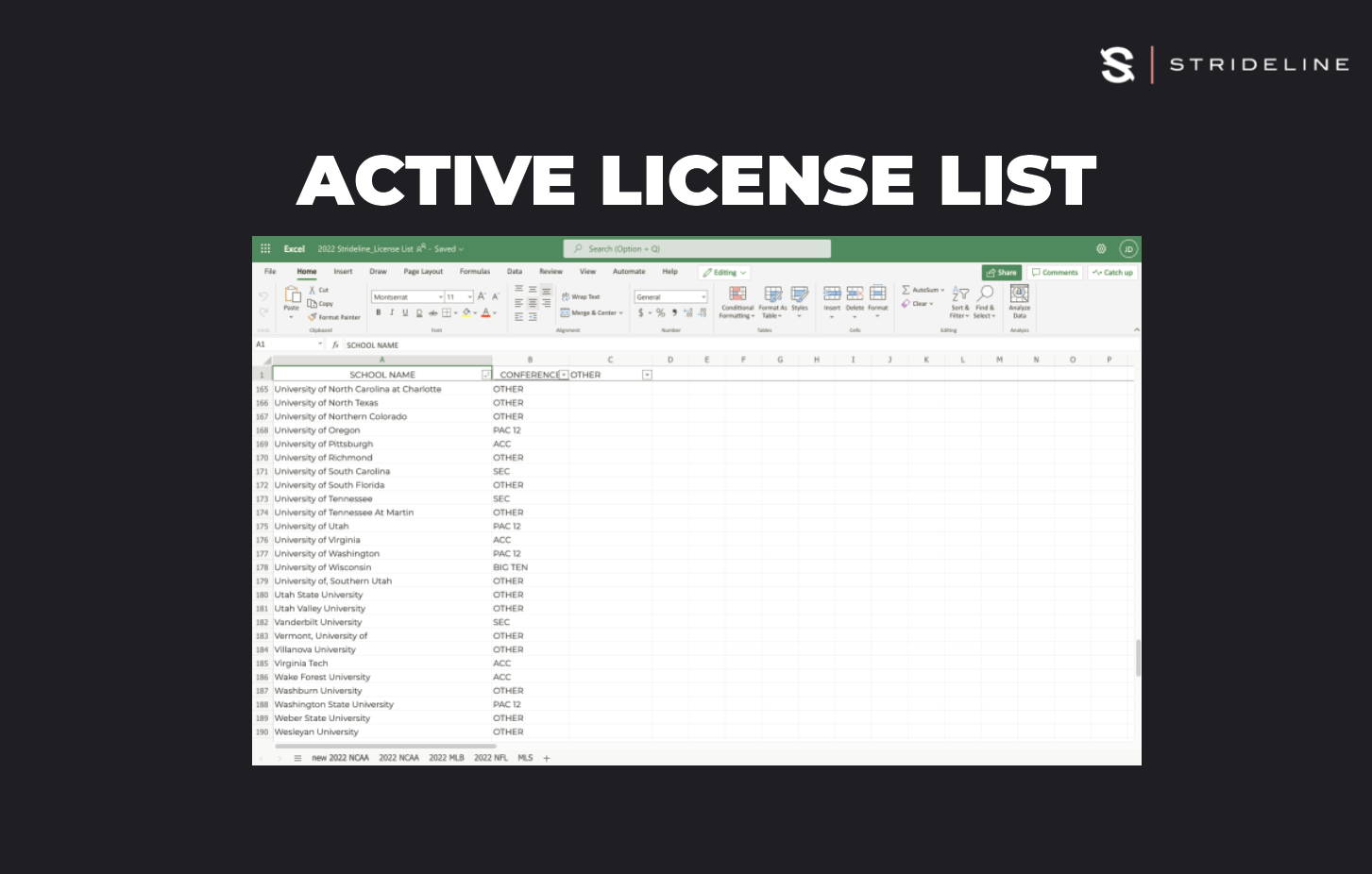 ---
Simple and straightforward list of all current active licenses held by Strideline .
CURRENT INVENTORY AVAILABLE TO SELL (ATS)
LAST UPDATED: FRIDAY. 12/10 @ 4:13PM PST BY LIZA MENDOZA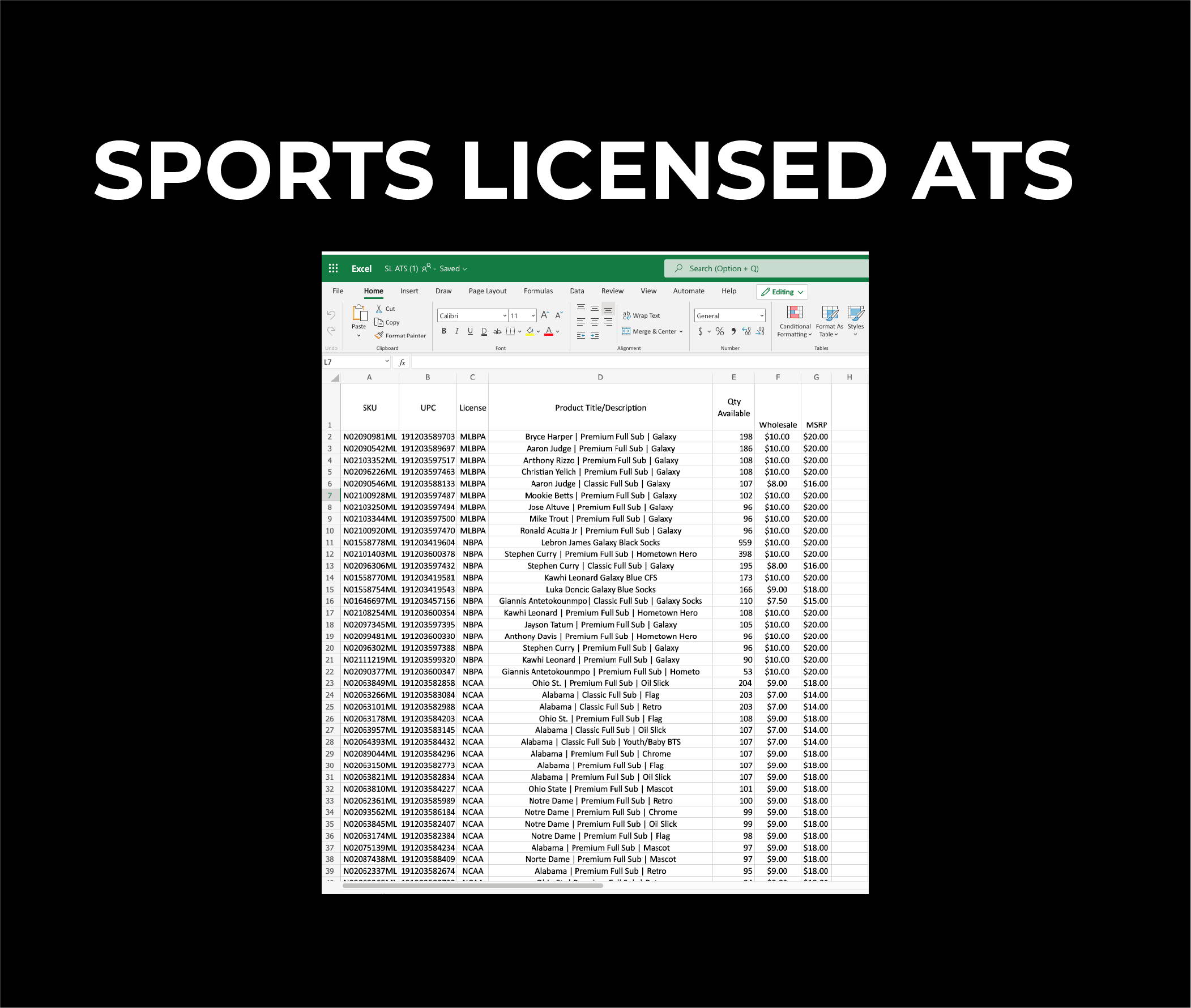 ---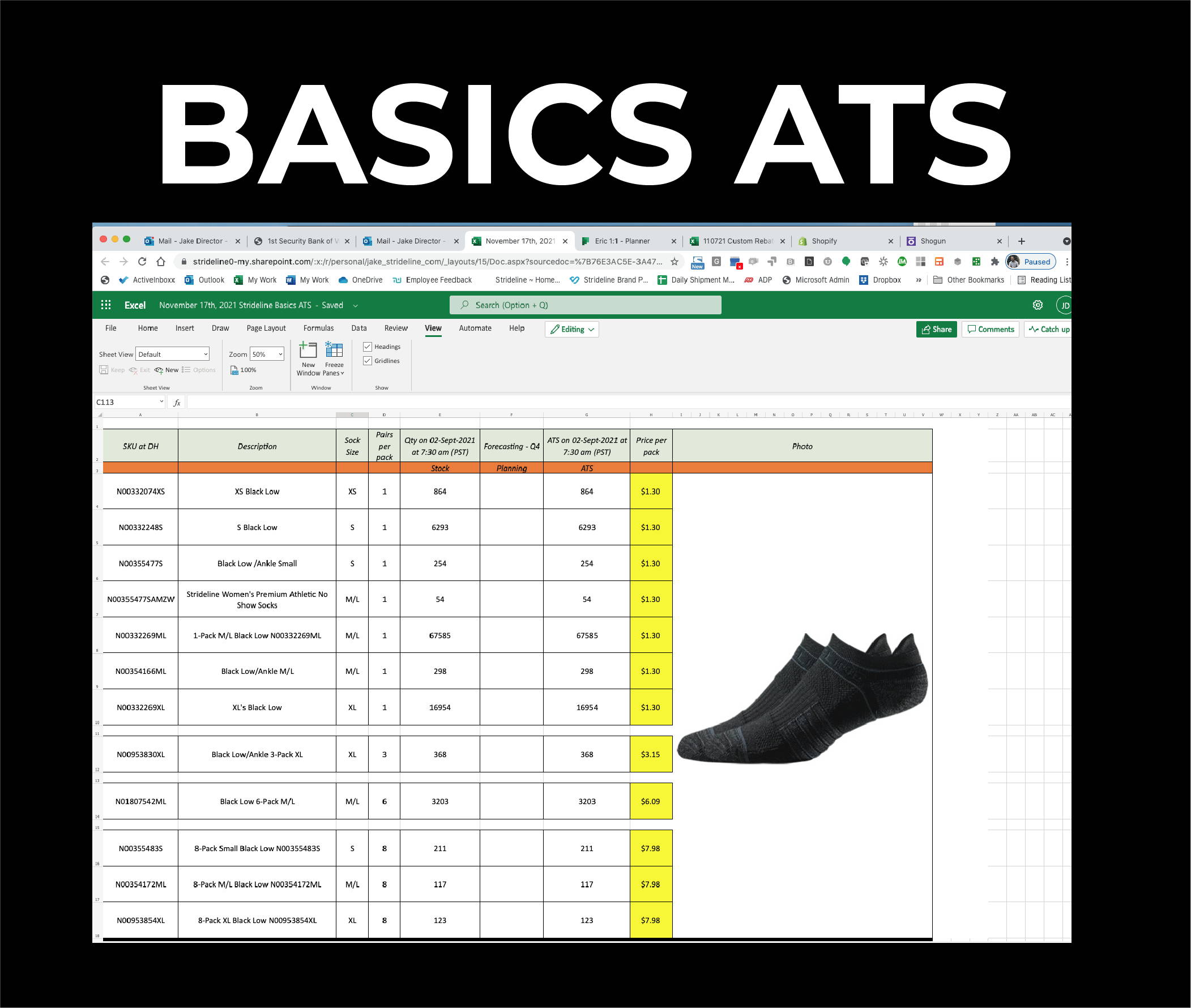 ---
---
The single best way to sell a Strideline sock is to get The Most Comfortable Sock on Earth™ in your buyers hands.
To do so please reference ATS above, select the styles and quantities you'd like to send, and send email to mloulan@strideline.com with the following information....
EMAIL SUBJECT LINE: **Your Name** Sample Request
EMAIL BODY:
ATTN: CUSTOMER NAME
CUSTOMER ADDRESS
DESIRED SKU + QTY
DESIRED SKU + QTY
DESIRED SKU + QTY
etc....
---
---